How I started my career with just ZERO in my bank account & grown in SEO Niche!
Well, Here I would like to share my story on how I started my career in SEO, Digital Marketing field from scratch and succeeded in it (I would not mention as I have succeeded already, As success is all about growing and reaching next levels from the point where you are now. I am glad to share that I am still learning stuffs and growing)
I am sharing this, so it may trigger many younger graduates and fresher's to start a career in this niche and explore more. This may give hopes to many who are looking for perfect opportunities to start their career.
Well, In India starting a career after graduating from university is Crucial. Some may get quick jumps in proper core niches, but some may not. Here before moving into my career, I will still go back and say how I have started to explore after completing my schooling in the year 2013. Yes, I have completed my school in the year 2013 and like lakhs of other students, I entered into the Engineering College!
I have joined Computer Science & Engineering at KPR Institute of Engineering & Technology, Coimbatore in the year 2013. Well, like most of the students in the current trend, I haven't hated engineering. It's my choice to join CSE as it was my personal interest and passion to do a career in this field! At this point of time, my parents were not keen about suggesting me to study this or that like normally most of the parents do, they left the career choice to me which is a big positive to me to do what I like.
How college days went?
When I speak about my college days, it takes back to me to such wonderful fun-filled days which usually all would have had. Enjoyments apart, We had good fun on the one end whereas I was consistently working on my career on the other side.
Speaking about career, It would never become complete without mentioning couple of buddies, my friends Gowdham & Aslam. We met first in college and during the college we as a team worked a lot and till date are together in the professional life as well.
Myself with my friends have implemented many things during the college days, We attended many paper presentations, project presentations and won in many. We as a team hardly haven't wasted any time during the college days and even during the weekends used to visit the college and use labs for our projects.
How I got into SEO?
During the 2nd year of my college, Logesh (Founder & CEO Of Infozub) has conducted a seminar for us about Digital Marketing and SEO. Seminar was arranged by our professor Dr. N. Yuva Raj and this moment I need to thank him as that seminar turned to be a career for me today. The seminar was very fruitful and it gave me and my friends an idea about this niche and future of SEO in the coming years.
I got curious about SEO and immediately the next day of seminar we started a new blog which is a free one called https://tricksout.blogspot.com/ and started working on it.  During this time, I haven't had any knowledge about blog or any other CMS, it's just a fresh start to me and I started working along with my friends.
After working for a while in the free blogger platform. We bought a new domain name and started a new blogging websites using WordPress CMS. Actually this is the opening point for my career. Me and my friends implemented and tested everything with this website. We have failed many times, yes many times and succeeded at the end with more traffic coming to our site organically after many months of work.
How about KPR Institute of Engineering & Technology helped my career growth?
Well, It would not be fair to not to mention about the opportunities that KPR College created for me to take me to next level. While I am starting to work on SEO during the 2nd year of my college, there is no sufficient resource for me available at home like Internet connection or PC.
To be honest, I don't have strong economic background and many things are running through me and my family financially. Seeing parents in financial pressure triggered me to do whatever it takes to relieve them from those things and offer a peace of mind for the rest of the life to my parents.
During that time college offered me to use labs and resources, I have been remembering working on evenings after college hours alongside my friends and used to travel back home late night after that. Even KPR offered me the labs to work on Sunday's.
This set a proper base to me as initially I am running out of resources and later once I am started getting ROI, I have invested on my basic needs like PC and internet connection to work on my zone and take me to next level.
There may be very few persons in life, whom you may remember for lifetime as they have helped you to take you to next level. Here I would like to mention one of the important person (I will mention few more people later in this blog ☺) in my college whom I would like to remember forever, It's Dr.Yuva Raj (Professor and Head, Dept Of CSE).
He is the one who stood behind me during my research alongside with our team. He used to come to college along with us on holidays to help with lab facilities and other things. Throughout the course completion, he guided our team a lot to reach the next heights and offered the freedom to do what we want.
Overall, KPR played a vital role in my career development and I would personally take this moment and thank the institute. It's not just about academics, its more than that.
How teamwork helped me?
I would be honest here, I would like to mention that my current position and my career growth and financial growth would not have happened without my friends Gowdham and Aslam as we stood together in many tough situations.
It came a time where our character was tested in many tough situations and we stood strong and motivate each other to hold on to the proper path. We too had lots of discussions, late night works, chit talks about the life and we did everything personally and professionally to support each other.
We as a team from college to till date, are together and traveling with the same passion and goal. Proud to say that we started from the scratch with just Zero's in our bank & now we are growing stage by stage!
Even in the earlier days, we three used to work late nights, take a short quick nap in the office space and used to resume early in the morning. We worked in similar pattern for few months until we setup the basic things for office and organize the proper team to work.
Myself along with my friends was selected for an Internship at Guvi in Chennai. During those times we worked together and learned a lot not only for professional life, but many things personally as well. Life for the new people at Chennai was not as easy and we three used to stay in 10 by 10 packed room (as shown in below image) to reduce the expenses and work together. At that point of time, we had only goal to learn, explore more and grow the skills.
We dont want to put the expenses too much on our parents. So we try to reduce the expenses by all possible means and focus on our work.
After graduating in 2017
Life was not easy after graduation for all!
Starting from the second year which started with free BlogSpot. I did a lot and tested several things with WordPress blogs and functionalities. During the final year myself along with the team got selected for internship at Guvi in Chennai. After completing the internship I started again to finish off things which I left in the final year academics.
After graduation, I joined Infozub as a SEO Consultant during the year 2017 and worked for like four months and later had a chance to work with Fernando Raymond at ClickDo, SEO Agency in London, UK. This is where the real professional game begun for me. Also, Gowdham & Aslam have joined Infozub as well initially.
During the start of my career, it was very difficult to handle things as I was working on multiple firms and used have a nap around three to fours a day. Then I will get into the routine. This was continued until I get into ClickDo full-time as SEO Consultant later in the year 2017.
My initial workspace
While starting my career and during the final college days, I used to work from home. To be honest, we used to stay in a 16 by 16 splitted rented house. There would be only living room and the other room would be kitchen. Despite having this little space, I used to setup my PC in the available area and started working during my initial days.
Below image is my initial workspace (nothing to hide & I am proud to share this pic now)
I have faced lots of external distractions as like normally what others would face in the rented house. But I haven't concentrated on those things as my ideal goal is to improve myself and get skilled on what I like to do the most. Once I improve myself, then no one is going to stop me from moving to the next level.
Below is my current personal workspace which I have in 2022*. So no matter what, you need to stick on your goals until you reach the desired goal.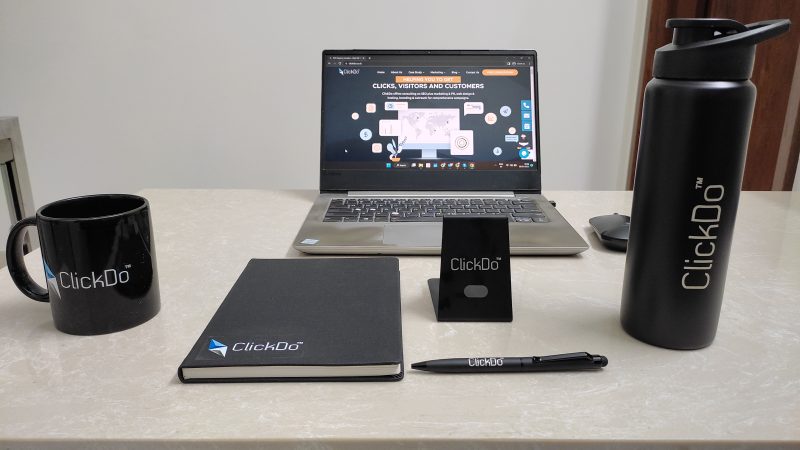 Great things take time and as a beginner you should not rely on quick success. It took me like three to four years to reach this point from the scratch after graduation.
Life at ClickDo! (Started in 2017)
After doing the best at Infozub, I have joined ClickDo, as Junior SEO Consultant initially. Gowdham have also joined ClickDo later followed by Aslam. After few months of work as Jr. SEO Consultant, I have been promoted to SEO Consultant level in the year 2018.
In the meantime, Gowdham & Aslam have moved to SeekaHost (which is a sister concern of ClickDo). Anyways we all worked from the same office to different verticals.
With couple more years at ClickDo, later came a point where I was promoted as SEO & Digital PR Manager to handle all kinds of client activities, sales activities and other core tasks. I have also initiated by opening an office for ClickDo in India where one dedicated team with around 6 plus members is working currently. Simultaneously Gowdham & Aslam have opened an office for SeekaHost where 8 plus members are working.
Speaking about ClickDo, it's time to mention about Fernando Raymond (Founder & CEO of ClickDo and SeekaHost). He is a kind of person who strongly believes not only in me, but in the entire team actions as well. Being in a corporate sector, he gave me complete freedom to me to execute things at ClickDo and it paved me way to build great things at ClickDo.
In the earlier stage of this blog, I have mentioned like need to say about few people who helped me to go to the next level in my career and life. Fernando is one among them and played a major role in my professional growth. He offered me complete freedom to handle activities at ClickDo and implement any kind of things for the betterment of the company. This remained as a main reason for both Company and my growth personally.
During the start, my salary started with four-figure salary in INR in 2017 which is not much. But during that time, my only goal is to learn things and prove myself. This took me to the different level growth in professional life. (For all the youngsters/graduates/freshers out there, I would like to personally say that don't focus on the initial pay what you are getting, focus on learning things and you will get automatic growth in your field both professionally and financially one you gain the skills)
First meeting with Fernando (In 2019)
We as a team have worked virtually until Fernando landed in India for the first time in the year 2019 to meet us. It was a bliss moment as after years of speaking in Skype calls, we had a time to meet in person and discuss life goals.
During 2019, ClickDo is at budding stage in India and the team strength is less. While discussing with Fernando, it was his strong belief to grow the team big in India and take the profits to the next level. It was just a dream that day which we had discussed by sitting in the poolside at Hotel Vivanta By Taj, Coimbatore. It's good to see that the dream is fulfilled now with hard work by the smart team.
During COVID Pandemic! Yes, I wrote BOOKS!
So during the COVID times, the professional life of many was brought to halt. But it's not for me as SEO is the career in which you can work from anywhere remotely. But to be honest some of the clients paused the services during the COVID and I have other ideas during that time.
I felt like its time to share the knowledge, so during the pandemic when I had more free time. I started investing my time in writing books on the niche what I am working on.
I have written three books so far as listed on https://www.dineshkumarvm.com/books/ and everything is available in Google Books & in Amazon Kindle as well,
This ideally will open up the path for many users who are reading this books. So If you have proper intent, you can utilize the time well and create new things.
ClickDo India Launch in 2021
After couple of years journey with ClickDo, I have initiated and opened ClickDo Indian office in the year 2021. Goal for me is to give chance to the budding young graduates to set the career in digital marketing and SEO.
At ClickDo Indian office, we have a smart team of 6 plus members who are involved in the core SEO activities for ClickDo. We do also offer paid training at ClickDo (Here paid training in the sense, ClickDo doesn't get any payment from the candidates, Instead ClickDo will pay to the candidates to make them feel the worth of what they are learning) for freshers and college students and later ClickDo will hire them full-time upon their performance.
In India, I have turned ClickDo from one man (me) to a strong team now having dedicated office here. Still a long way to go as a team. I personally had a passion towards my work and its not about just 9 to 5 work model, if you have strong interest in what you are doing, then everything will fall in one path towards success which helped me to turn ClickDo into a five-figure (£) profiting agency in London, UK.
At ClickDo, I don't limit myself in doing anything as I love to commit towards many things personally and complete it to perfection. I handle all SEO and paid marketing clients at ClickDo and lead the link-building agency role as well.
ClickDo & SeekaHost team in UAE (In 2022)
So it's my first flight in my lifetime. Being a kid born and raised in India in a normal economic background, it's a dream for everyone to travel in a plane. Dream came true when we have decided to have the annual progress meeting of ClickDo and SeekaHost in Dubai, UAE.
It was such a good feel when my best buddies are around me during my travel. Yes, Myself, Aslam and Gowdham have traveled together to UAE where it was the first flight for all three of them.






It was a good annual meet which we had at Dubai meeting, Fernando. It's a good time we spent over there creating memories for a lifetime with a long dedicated boat ride at Dubai Marina.
It's good to look back and see how I started and where I am now. Its always feels good to look back the path and feel good of yourself about the struggles you have gone through. You can't achieve or do anything from your comfort zone. You should push your limits to do what you like and enjoy the journey towards your goal.
I am happy about what I did for my parents!
It was my parents long lasting dream to buy a land and build own house. I can feel the eagerness of my parents for this from my childhood and unfortunately there are many circumstances which they need to come across. Still I remember the days how they struggled to take care of my academic expenses and I would like to stop here regarding their struggles!
To pay off for the hurdles what they have faced during the lifetime, I personally gifted them with a land and later constructing a proper house in the same area. Below image is the proposed house plan and I am happy to say that construction has been completed and I personally feel that this is one of the best thing that I can offer for my parents in my lifetime.
Its no matter how much you earn or what you do in your life. Seeing parents in happy and relaxed mode is the best feel ever that you can get in your lifetime. I have felt it personally!
Behind all this hurdles and success, I had Gowdham & Aslam throughout with me and they both know the bitter side of me as well!
Lessons which I learnt
As a beginner, its no matter what you earn in the beginning, Its all matters how much you make after experiencing the niche for about six months to one year period of time. Common fear which arises in every beginner is about the earning, Just take this factor out of the equation and trust on the process. This will ideally take you to the destination where you wanted to be!
I personally had three things fixed in my mind which are, HONESTY, INTENT & CONSISTENCY.
Whatever you do in your life you need to be HONEST enough to all and transparent in what you are doing. It's not only suits for my professional life, I follow this personally to all who are with me right from the friends to the professional team whom I work with. Being honest and respecting others should be the first thing in life which will help you attain better heights in life.
The second thing is INTENT, You should have pure intention on what you are doing. Whatever happens around you or whatever the situation you are in may be, you need to have pure intention and work with the good momentum towards your goal. Having pure intent towards your goal will ideally make positive vibes to spread around you and this universe itself will guide you to attain the goal!
The final thing is CONSISTENCY. You should never stop or look back before reaching your target. There may be many things you may go through in your life personally, physically, and mentally each day due to the various circumstances around you. Whatever happens, you need to consistently work towards your goal and never mind what others say. Just do consistently on what you like. One day you will feel proud even if you fail, because doing what you personally like matters a lot.
I personally followed this in my life so far and I'm addicted to these habits. I have faced many distractions in many forms, but I have only these three things in my mind to work with and finally I am here. Today I feel proud and happy to say that my parents can sit back at home and relax. Now they are free from financial stress and which is my dream to offer them a peace of mind!
So if you are student or a graduate reading this, just take enough time and choose the niche what you like the most. It can be anything, its not just about certain things. If you started working consistently on what you like the most, nothing can stop your success and it will give you stress-free environment in each moment of your life.
Do what you love and stay happy!
BE HONEST… HAVE INTENT…WORK CONSISTENTLY…!!