SEO experts usually shun any discussion about Private Blog Networks. Publicly they would never suggest it as a possible alternative.
That does not take away an iota from the fact that a Private Blog Network is the most effective way to build an SEO reputation. I know because I have been part of the SEO industry since 2015 and ranked websites using PBNs.
Since doing client consultancy work for hundreds of clients at ClickDo I have tested everything possible when it comes to PBN SEO. And I believe I know about PBNs and how they work for SEO in 2021 and beyond.
All I can say is right now PBNs works so well and it's going to go a long way till people use searches and searches uses backlinks are one of the primary ranking factors.
I am going to take you on a journey into the world of PBN and how it works. In the end, you can decide for yourself if using this incredible tool for SEO is worthwhile.
Before we begin, I would like to ask one question.
Do all the webmasters that outsource their link building actually believe they are not part of a Private Blog Network?
Not at all. It's a nod and a wink situation.
What is a Private Blog Network?#
PBN is a group of authoritative sites that provide backlinks in SEO to the site you wish to promote in SEO rank.
The latter is usually called a money site.
A Private Blog Network can raise the money site's rank in as little as a month. If done carefully, PBN is a potent tool.
A PBN is created by buying URLs of old sites that are up for sale. Every day about 50,000 URLs expire, and a small number of them become part of PBNs.
Once purchased, these sites are converted into blogs. They continue to carry the high Domain Authority they had acquired and pass on the same to the money site.
Why Set Up a Private Blog Network?
You need to rank high in search to get any customers. If you use traditional methods of link building, such as guest posts, it will take years to generate high-quality backlinks.
Yet we all know that Google and other search engines (such as Bing, DuckDuckGo) places enormous stress on backlinks as a ranking factor.
Does that mean, for years, your site would remain on page 50 of search results? That makes no sense. Established players have been around for years. They would have a huge number of backlinks. There is no possible way to compete with them due to their head start.
It is of little use complaining that the algorithms are unfair. One has to make the best of the situation.
What are the benefits of PBN?
Let me give you a brief idea.
1. Complete control
When someone else uses your site URL, you have no control over the context in which it is placed. Neither can you manage if it is a "nofollow" or "dofollow" link?
But when you own a PBN, you have complete control over how and where the link would be placed. This allows your money site to quickly gain link juice and crawl up the rankings.
2. Works swiftly
It only takes a long as a search engine needs to index the pages. That would be between 30-60 days. The results are almost instantaneous in terms of SEO timeline.
If you are going to do SEO in any other way, online or offline, it will take months to achieve the same kind of result.
Yet every month that you wait would cost you resources that you can ill afford.
3. No need for outreach
Whether you want to write guest posts or have few broken links replaced by your own, outreach is necessary.
You have to convince the other party why they should allow you to link building on what is essentially their digital real estate. That can be a hard sell. It isn't easy to coax so many over a short period and influence them.
If you use a Private Blog Network, you are the owner and the link builder. There is no need to ask for permission from another party.
4. Most cost-effective
The most significant factor when it comes to Off Page SEO.
SEO can get mighty expensive if you are going to take the scenic route to your destination. Giving away guest post articles for free, paying writers for quality blog posts can eat into your advertising budget quite fast.
And after all that pain, you will achieve a jump from page 10 to 4, and the journey to page 1 would be exponentially tougher.
It can get quite demoralizing and also a disincentive to your investors.
PBN remains the least expensive method for gaining SERP. At least in the short-run (a quarter), I have always found it to outperform every other SEO technique.
Is It Illegal to use PBN?
Often it is dismissed as Black Hat SEO, but that is a matter of perspective.
I am not going to argue about Black, Grey, White, or any other hue of that. It is my task as an SEO expert for over a decade to help my clients. I offer them all the choices and tell them the pros and cons. In the end, the client decides what is best for his website.
Can your online business depend on the whims of Google's management? Perhaps not. What if they decide tomorrow that broken link building is also going to be a (so-called) Black Hat procedure.
PBN is the best workaround that we have in our arsenal. It would be a grave error not to include it in your SEO plans.
You can learn how to do PBN SEO and it all starts with learning how to build a private blog network.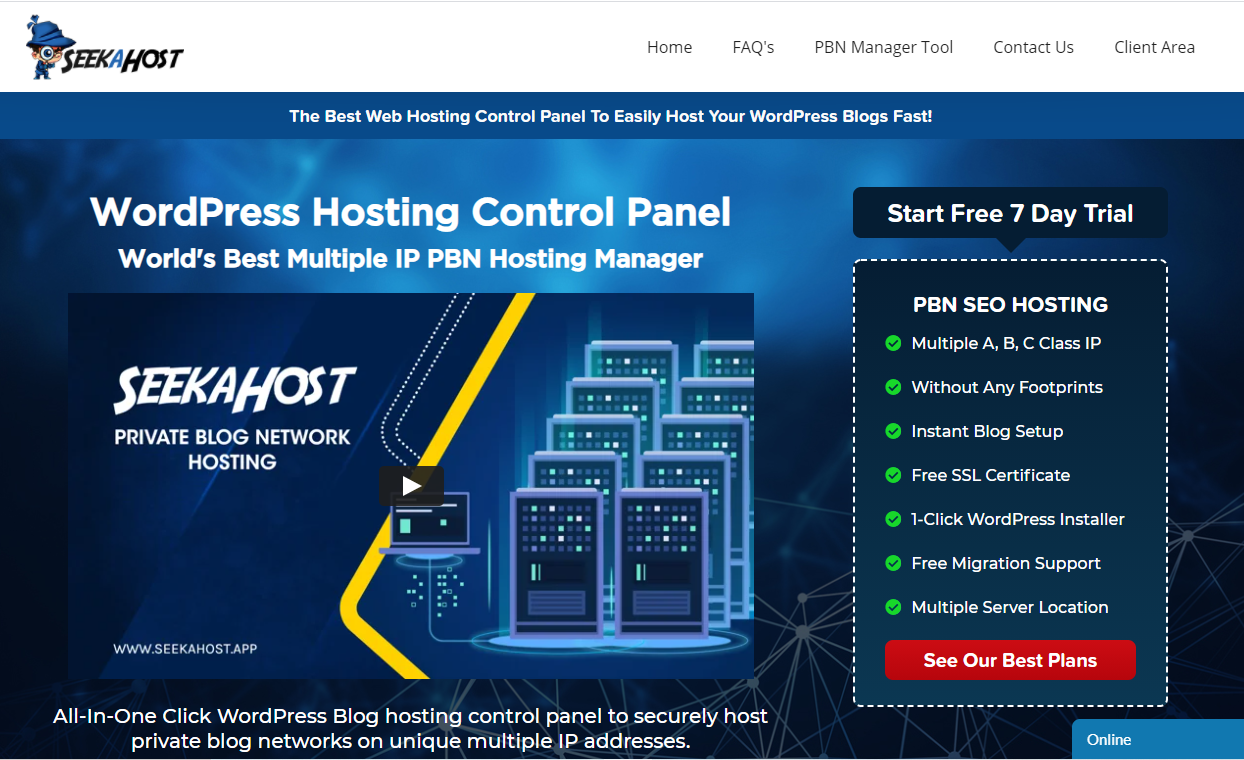 If you are looking to build a private or public blog network the easiest way to do is at www.seekahost.app