SeekaHost WordPress Hosting control Panel for Easy Private Blog Networks Setup and Managing
Are you taking your first step to blogging? Congratulations as you are at the right place. Starting a blog is the best option to get rid of the 9 to 5 job. But do you know how to start a blog? I have got an exclusive WordPress hosting review where you will learn quick steps to start a WordPress blog.
Starting a WordPress blog requires a domain name and a hosting. There are different types of hosting available like Shared, WordPress, VPS, and Dedicated Server.
For a WordPress blog, the best hosting considered is the WordPress hosting as it is WordPress optimized. You can install WordPress at one-click and launch your WordPress blog in quick easy steps.
SeekaHost is one of the top WordPress hosting providers out there, so in this article, I have shared a SeekaHost WordPress hosting review.
I personally use SeekaHost to buy domains and this blog is also hosted via the SeekaHost WordPress hosting control panel. It's the easiest solution to host domain and get online.
SeekaHost WordPress Hosting Overview
A WordPress hosting is the one that offers simplicity and flexibility to manage WordPress sites. SeekaHost WordPress hosting offers a unique SeekaPanel that is easy to manage your WordPress blogs. You can launch your WP sites in almost one-click with few details to enter like name and password.
So, whether you are a blogger, or a business owner, you can launch your WordPress site with the best SeekaHost WordPress hosting services.
Top Reasons to Choose SeekaHost WordPress Hosting
If you have any doubt about SeekaHost WordPress hosting services, then look at these top-notch features packed in every WordPress hosting package.
● No set up fees or long term contracts, simple and flexible pricing. You can choose to pay monthly or annually. But, if you pay annually, you can save more.
● Your site is secured with a free SSL certificate.
● If you already have a WordPress site, you can migrate to SeekaHost for free.
● Take regular backups at one-click of the entire website content.
● Automatic and regular WordPress updates.
● Register your domain and hosting subscription in a few minutes.
● One-click WP blog set up.
● An intuitive and simple SeekaPanel control panel unlike other SeekaHost alternatives and competitors out there.
● WordPress support and remote support via live chat and email ticketing system.
SeekaHost Best WordPress Hosting Plans
In this section of SeekaHost WordPress hosting review, you can check out the different plans and its features.
You can choose any of the three control panels viz. SeekaPanel, cPanel, or Plesk control panel. I would suggest you choose SeekaPanel as you can easily launch your WP blog.
Starter: $1.49/month
This is the basic and cheapest SeekaHost WordPress hosting plan. If you compare it with other WordPress hosting providers, you will see that this is the most affordable WP hosting. With this plan, you can launch a single WordPress site with 2 GB space, and 10 GB bandwidth.
You won't get any support in this plan but this is the best plan to start your WP blog. Later, you can upgrade your hosting for more disc space, bandwidth, and support.
Standard: $5.50/month
This plan allows you to host up to 3 WordPress sites with 15 GB space, and 30 GB bandwidth. The starter plan also doesn't offer any support but provides you more space and bandwidth.
Growth: $8/month
If you have up to 5 WordPress sites to be launched, then choose the Growth plan. Along with this plan, you get 50 GB space, and 50 GB bandwidth. This plan offers only WordPress support but the remote support is missing.
Premium: $12/month
This is the highest WordPress hosting plan that allows you to run up to 10 WordPress sites. With this plan, you will get both WordPress support and Remote Support. You can use this plan if you are planning to create multiple blogs and need complete support to handle and grow your blogs. The premium plan provider remote support and everything from managing and helping your blogs.
How To Start a WordPress Blog with the SeekaHost SeekaPanel?
You cannot expect a control panel that offers such an ease and flexibility to launch a WP blog. The SeekaHost control panel has WordPress optimized features with one-click WordPress blog creation.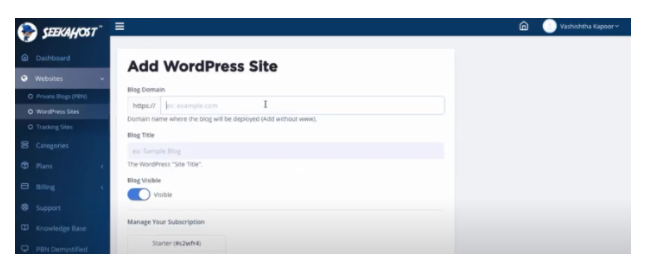 Here are few simple steps to creating a WP blog with SeekaPanel:
Register a New Domain Name
To start a blog, you need a domain name that you can get registered at SeekaHost at just $10.49 for the first year.
To register your domain, simply enter the domain name in the search box and check for its availability. If the domain is available, add it to the cart, and create your new account at SeekaHost.
Once, you have created your account and logged in, you can proceed by filling in your personal details, and choosing the payment method. You can choose either PayPal or Debit/Credit card.
Once your payment is successful, you will get a domain registration confirmation email in your inbox.
Choose a WordPress Hosting Plan
Now, in the previous section of SeekaHost WordPress hosting review, I have already shown the different plans you can choose for your WP site.
If you want to launch a single WordPress blog, choose the Starter plan.
Remember to choose the SeekaPanel as you can create your WP blog at one-click.
You will be asked to create a new account at the Seeka.app, so proceed with the account creation.
Once you are logged in, you can proceed with the payment by choosing the currency as USD and annual billing.
Complete the payment process and your hosting will be online. But there's two more steps remaining to launch your WP blog.
Create a WP Site
You have a domain and a WordPress hosting under your name, so now you need to launch your first WP blog.
Simply click on Create a New WP Site,and enter your domain name, blog title, and click on Continue. At one-click your WordPress blog is ready to go live.
Watch the below video to see how to easily create a WordPress website with a blog.
Pointing the Nameservers
One last and most important step is to point the nameservers to your hosting. Simply copy the Nameserver 1 and 2 and go to the domain settings.
Click on Manage Nameservers and paste both the nameservers in their respective fields.
Once, the nameservers are pointed correctly, your site will be live, and you can start writing blogs.
Other SeekaPanel Features
The SeekaPanel offers one-click SSL installation and one-click backup of your entire site. You can also create a business email at one-click just by entering an email name and password.
Conclusion: Is the SeekaHost WordPress Hosting Review Worth It?
I tried to cover everything in this SeekaHost WordPress hosting review to help you create a WP blog at ease.
So, if there is anything missing, then do reach us out in the comments and will try to answer your queries within one business day.
I hope the SeekaHost WordPress hosting review was worth reading. If you found this article to be helpful, share it with your friends who are looking to start a blog with one of the best WordPress hosting plans in 2021.